Advocates called for investigation of Amazon's Echo Dot Kids Edition, Federal Regulators Now Poised to Act
Reports indicate FTC plans to advance case against Amazon for violation of kids' privacy after advocates' 2019 complaint.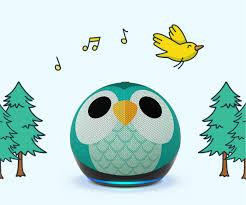 BOSTON, MA and WASHINGTON, DC — Friday, March 31, 2023 — Following a groundbreaking investigation of Amazon's Echo Dot Kids by Fairplay and Center for Digital Democracy (CDD), the Federal Trade Commission is preparing to advance a case against Amazon for the company's violations of children's privacy law to the Department of Justice. According to new reporting from Politico, the case centers on Amazon's violations of the Children's Online Privacy Protection Act (COPPA) through its Alexa voice assistant.

In 2019, privacy advocates Fairplay and CDD called for the FTC to take action against Amazon after an investigation of the company's Echo Dot Kids smart home assistant, a candy-colored version of Amazon's flagship home assistant with Alexa voice technology. The investigation
revealed a number of shocking illegal privacy violations, including Amazon's indefinite retention of kids' sensitive data even after parents requested for it to be deleted. Now, reports indicate that the FTC is acting on the advocates' calls for investigation.
"We're thrilled that the Federal Trade Commission and Department of Justice are close to taking action against Amazon for its egregious violations of children's privacy," said Josh Golin, Executive Director of Fairplay. "We know it's not just social media platforms and apps that
misuse children's sensitive data. This landmark case would be the first time the FTC sanctioned the maker of a voice-enabled device for flouting COPPA. Amazon and its Big Tech peers must learn that COPPA violations are not just a cost of doing business." "It is time for the FTC to address the rampant commercial surveillance of children via Internet of Things (IoT) devices, such as Amazon's Echo, and enforce existing law," said Katharina Kopp, Director of Policy at Center for Digital Democracy.
"Children are giving away sensitive personal data on a massive scale via IoT devices, including their voice recordings and data gleaned from kids' viewing, reading, listening, and purchasing habits. These data practices lead to violating children's privacy, to manipulating them into being interested in harmful products, undermining their autonomy, and to perpetuating discrimination and bias. Both the FTC and the Department of Justice must hold Amazon accountable."
[see attached for additional comments]