FTC Should tell Microsoft that it's "Game Over" with its plans to buy Activision Blizzard
Deal reflects Big Tech move to grab more data for omnipresent tracking & targeting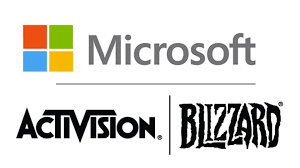 Microsoft is rapidly expanding its surveillance advertising complex—first acquiring AT&T's powerful Xandr targeting system last December, and adding a few weeks later the online gaming and eSports giant Activision Blizzard. The combination of Microsoft, AT&T and Activision assets raises a set of concerns regarding competition in the gaming and eSports marketplaces; privacy/surveillance protections, given the pervasive data gathering on users; and consumer protection, such as the methods that Microsoft and Activision (and other gaming services) implement to monetize players (including youth) through in-stream advertising and other marketing efforts. It also has implications for the ways we protect privacy in streaming media as well as in the evolving "metaverse."
The FTC must review this proposed deal, with the agency's privacy and consumer-protection roles at the fore. 
This proposed Microsoft/Activision combination is emblematic of the ongoing transformation of how Big Tech companies track and target people across all their devices and applications. In order to continue its surveillance-advertising-based model, the online industry is undergoing a massive shift in tactics. It is pivoting to what's called a "First-Party" data use strategy, claiming that it is obtaining our permission to continue to follow us online and deliver personalized ads and marketing. Getting our consent is the Big Tech plan to undermine any privacy legislation in the U.S. and elsewhere. For example, if this merger goes through, users of Activision games will likely be asked to consent to data collection and tracking on all of Microsoft's services—such as Bing and LinkedIn. Given that Microsoft and Activision have already baked into its ad services relationships with Google and Meta/Facebook, this acquisition also illustrates the numerous deals that are aligned in all of these digital giants. 
Owning Xandr will bring a host of additional surveillance advertising resources to Microsoft's already robust consumer-profiling and marketing infrastructure (including information contributed by AT&T's own data practices). As explained in the data marketing newsletter AdExchanger, the Xandr and Activision acquisitions, if approved, will enable the leveraging of Microsoft's already "strong first-party data set and monetize inventory across its wide portfolio of platforms, including its video game business, LinkedIn, Bing, Edge, Office 365, Skype and more." Microsoft was already working with AT&T's Xandr surveillance ad targeting apparatus, including for its gaming division. For example Xandr explains that its enables marketers to "Access real users in immersive and engaging environments" via its current ability to target people thru the Microsoft Advertising Exchange.
Microsoft's data targeting currently involves its "Microsoft Search Network," which "sees 14.6 billion monthly searches globally across nearly 700 million users. Its Audience Network engages in an array of targeting tactics, including via leveraging a person's identity, location, use of LinkedIn or other sites and a variety of "custom" approaches. Advertisers are able to "target audiences…across more than 1 billion Window devices." Microsoft also offers its "Dynamics 365 Customer Insights" data platform to help marketers package their own data to use on its ad platform. 
Activision engages in an array of ad practices that raise concerns about unfairness and privacy, from in-stream ads to "rewarded videos" to product placement. As it explains, "Activision Blizzard Media connects brands and players with fan-first integrated advertising experiences across gaming and esports…. We create user-initiated in-game advertising experiences that allow brands to reward 245M+ players at key moments of gameplay to drive reach, frequency and engagement…. In-game User-initiated video ads allow brands to reward players at key moments of gameplay."
In this context, the FTC needs to review all the third-party tracking YouTube-related companies serving ads to Activision Blizzard Esports, including Google Campaign Manager 360, Flashtalking, Adform, Innovid and Extreme Reach. For example, Flashtalking explains that it helps gaming services "drive customer lifetime value…, understand who bought your games, how they interact with your brand, and which touch points drove engagement." Innovid helps marketers create "accurate, persistent identity across devices." For measurement, which is also a privacy issue long overlooked by previous FTC commissions, we have Activision partners that include Oracle's MOAT, Kantor, Google Campaign Manager, and others. Everything from potato chips, candy and toilet paper is pushed via its gaming services. Activision uses neuromarketing and other research-related online ad industry tactics to figure out how best to deliver marketing to its users (including teens)—all of which have privacy and consumer protection implications. 
For decades, the Federal Trade Commission has approved Big Tech mergers without examining their impact on consumer protection and privacy (and also on competition—think of all the Google and Facebook takeovers the commission has okayed). This is unacceptable. Gaming is a hugely important market, with a set of data-gathering tactics that impact both consumers and competition. We expect this FTC to do much better than what we have witnessed for the past several decades.