"Big Food" and "Big Data" Online Platforms Fueling Youth Obesity Crisis as Coronavirus Pandemic Rages
Download the press release, full report, and executive summary below.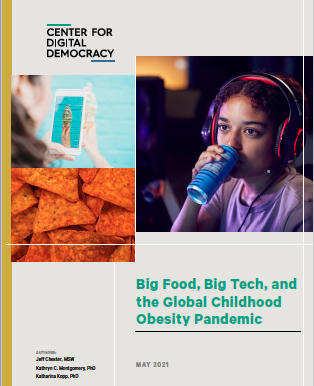 The coronavirus pandemic triggered a dramatic increase in online use. Children and teens whose schools have closed relied on YouTube for educational videos, attending virtual classes on Zoom and Google Classroom, and flocking to TikTok, Snapchat, and Instagram for entertainment and social interaction. This constant immersion in digital culture has exposed them to a steady flow of marketing for fast foods, soft drinks, and other unhealthy products, much of it under the radar of parents and teachers. Food and beverage companies have made digital media ground zero for their youth promotion efforts, employing a growing spectrum of new strategies and high-tech tools to penetrate every aspect of young peoples' lives.
Our latest report, Big Food, Big Tech, and the Global Childhood Obesity Pandemic, takes an in-depth look at this issue. Below we outline just three of the many tactics the food industry is using to market unhealthy products to children and teens in digital settings.
1. Influencer marketing - Travis Scott & McDonald's
McDonald's enlisted rapper Travis Scott, to promote the "Travis Scott Meal" to young people, featuring "a medium Sprite, a quarter pounder with bacon, and fries with barbecue sauce." The campaign was so successful that some restaurants in the chain sold out of supplies within days of its launch. This and other celebrity endorsements have helped boost McDonald's stock price, generated a trove of valuable consumer data, and triggered enormous publicity across social media.
2. Gaming Platforms - MTN DEW Amp Game Fuel - Twitch
PepsiCo's energy drink, MTN DEW Amp Game Fuel, is specifically "designed with gamers in mind." Each 16 oz can of MTN DEW Amp Game Fuel delivers a powerful "vitamin-charged and caffeine-boosted" formula, whose ingredients of high fructose corn syrup, grape juice concentrate, caffeine, and assorted herbs "have been shown to improve accuracy and alertness." The can itself features a "no-slip grip that mirrors the sensory design of accessories and hardware in gaming." It is also "easier to open and allows for more uninterrupted game play."
To attract influencers, the product was featured on Twitch's "Bounty Board," a one-stop-shopping tool for "streamers," enabling them to accept paid sponsorship (or "bounties") from brands that want to reach the millions of gamers and their followers.
3. Streaming and Digital Video - "It's a Thing" Campaign - Fanta
Concerned that teens were "drinking less soda," Coca-Cola's Fanta brand developed a comprehensive media campaign to trigger "an ongoing conversation with teen consumers through digital platforms" by creating four videos based on the brand's most popular flavors, and targeting youth on YouTube, Hulu, Roku, Crackle, and other online video platforms. "From a convenience store dripping with orange flavor and its own DJ cat, to an 8-bit videogame-ified pizza parlor, the digital films transport fans to parallel universes of their favorite hangout spots, made more extraordinary and fantastic once a Fanta is opened." The campaign, which was aimed at Black and Brown teens, also included use of Snapchat's augmented-reality technology to creative immersive experiences, as well as promotional efforts on Facebook-owned Instagram, which generated more than a half a million followers.